References
Satisfied customers are the pillars of our work. Below you will find some experiences and comments from our customers.

PERSONNEL DIRECTOR, CITY OF RASEBORG:
Our personnel has found that the Metal Age method works. The method gives no ready answers but engages all participants to together find solutions for an improved work wellbeing.

CEO, CARUS PBS:
We received great benefits from the KivaQ W questionnaire and the KivaQ development workshop already back in 2007.

CEO, DALWIRE:
KivaQ has been a good and simple method for developing work wellbeing for both the white collar and blue collar workers in our organization. For years we have been following the development of the KivaQ W questionnaire.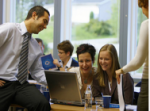 KIVAQ FACILITATOR:
I have actively been using the KivaQ method for a couple of years and I´m impressed with how well it always works. The group's focus on what is essential and have an immediate use for the tailored results.